Dear friends,
We are fully open for indoor dining and takeout, Tuesdays-Sundays, 9 am – 3 pm. 
We look forward to seeing you often in 2022!

Love,
Your Panorama team
The Panorama of My Silence-Heart is a vegetarian and vegan café, owned and operated by meditation students of Sri Chinmoy in Jamaica, NY.
Panorama is dedicated to serving delicious and healthy food, coffee and drinks in a beautiful and peaceful atmosphere. Inaugurated in August 2007, the name and inspiration for the café was given by renowned meditation teacher, poet, artist and composer Sri Chinmoy, who lived in the Jamaica/Briarwood neighborhood from the late 1960s until his passing in October 2007.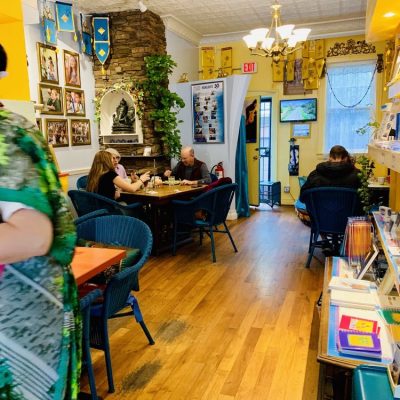 "If you're coming from JFK, this coffee shop is directly on the Q25 college point bus from Jamaica station. It's literally right at the bus stop. Anyways, very cool looking space. They really put thought into what their space looks like. Books, bright colours, different styles of seating. They have it all. I ordered a chai latte and avocado toast. Pretty pricey for a basic avocado toast and it was only one slice. The soy chai latte was spiced and good. I sat near the entrance to the storage basement so employees were coming in and out frequently which was kinda distracting but I guess on me for choosing to sit there lol I was one of the first customers there but as the day started going, a lot of regulars came through to eat and have coffee. I recommend stopping by here if you've just landed from a red eye flight at JFK."

"Hands down my favorite cafe in this part of Queens. I go at least twice a week. The staff is super friendly and the menu items and healthy and delicious! There is a really peaceful vibe about this place that enhances this experience."